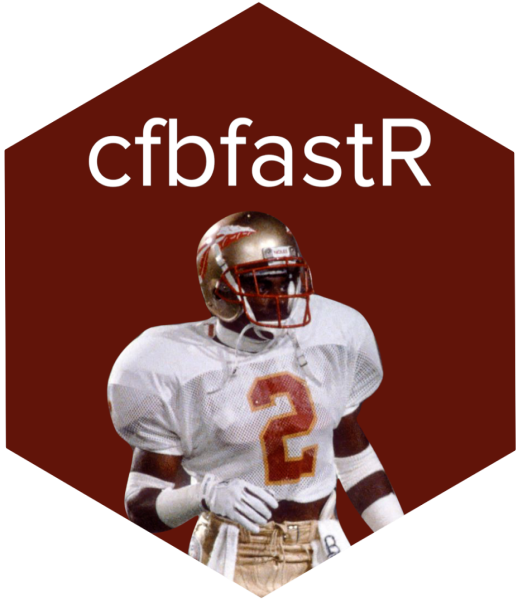 Get Transfer Portal Data
Source:
R/cfbd_recruiting.R
cfbd_recruiting_transfer_portal.Rd
Arguments
year

(Integer required): Year of the offseason (2021 would return transfer portal data starting from the end of the 2020 season), 4 digit format (YYYY).
Value
cfbd_recruiting_transfer_portal() - A data frame with 11 variables:
season:integer

Season of transfer.

first_name:character.

Player's first name.

last_name:character.

Player's last name.

position:character.

Player position.

origin:character.

original team.

destination:character.

new team.

transfer_date:character.

Date of transfer.

rating:character.

Player's 247 transfer rating.

stars:integer

Player's star rating.

eligibilty:character.

Player's eligibilty status.
Examples
# \donttest{


  try

(

cfbd_recruiting_transfer_portal

(

year 

=

 

2021

)

)




#>

 ── Transfer portal data from CollegeFootballData.com ───────── 

cfbfastR 1.9.3

 ──


#>

 

ℹ

 Data updated: 

2022-09-23 03:23:39 UTC




#>

 

# A tibble: 1,784 × 10




#>

    season first_name last_name posit…¹ origin desti…² transfer_date       rating


#>

     

<int>

 

<chr>

      

<chr>

     

<chr>

   

<chr>

  

<chr>

   

<dttm>

              

<chr>

 


#>

 

 1

   

2

021 Cameron    Wilkins   LB      Misso… UT San… 2021-07-31 

00:00:00

 

NA

    


#>

 

 2

   

2

021 Stephon    Wright    DL      Arizo… SMU     2021-07-29 

00:00:00

 

NA

    


#>

 

 3

   

2

021 Javar      Strong    S       Arkan… 

NA

      2021-07-28 

00:00:00

 

NA

    


#>

 

 4

   

2

021 Noah       Mitchell  LB      UT Sa… 

NA

      2021-07-27 

00:00:00

 

NA

    


#>

 

 5

   

2

021 Trivenskey Mosley    RB      South… 

NA

      2021-07-26 

00:00:00

 

NA

    


#>

 

 6

   

2

021 Jalar      Holley    DL      Miami  

NA

      2021-07-25 

00:00:00

 

NA

    


#>

 

 7

   

2

021 Davon      Wells-Ro… LB      Wyomi… 

NA

      2021-07-23 

00:00:00

 

NA

    


#>

 

 8

   

2

021 Samari     Saddler   IOL     Easte… 

NA

      2021-07-23 

00:00:00

 

NA

    


#>

 

 9

   

2

021 Maurquel   Dillard   CB      Flori… 

NA

      2021-07-22 

00:00:00

 

NA

    


#>

 

10

   

2

021 Bennett    Johnston  QB      South… 

NA

      2021-07-22 

00:00:00

 

NA

    


#>

 

# … with 1,774 more rows, 2 more variables: stars <int>, eligibility <chr>, and




#>

 

#   abbreviated variable names ¹​position, ²​destination




# }