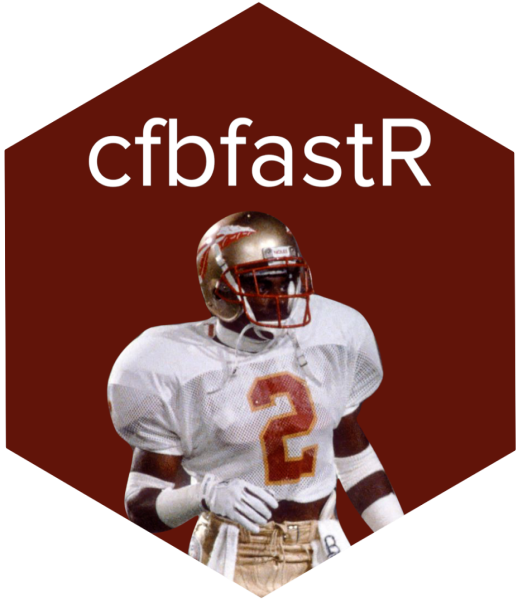 Player information lookup
Source:
R/cfbd_players.R
cfbd_player_info.Rd
Player information lookup
Arguments
search_term

(String required): Search term for the player you are trying to look up

position

(string optional): Position of the player you are searching for. Position Group - options include:

Offense: QB, RB, FB, TE, OL, G, OT, C, WR

Defense: DB, CB, S, LB, DE, DT, NT, DL

Special Teams: K, P, LS, PK

team

(String optional): Team - Select a valid team, D1 football

year

(Integer optional): Year, 4 digit format (YYYY). If left NULL, API default will only provide results for most recent year of final rosters: 2020
Value
cfbd_player_info() - A data frame with 12 variables:
athlete_id:character.

Unique player identifier athlete_id.

team:character.

Team of the player.

name:character.

Player name.

first_name:character.

Player first name.

last_name:character.

Player last name.

weight:integer.

Player weight.

height:integer.

Player height.

jersey:integer.

Player jersey number.

position:character.

Player position.

home_town:character.

Player home town.

team_color:character.

Player team color.

team_color_secondary:character.

Player team secondary color.
Examples
# \donttest{


  try

(

cfbd_player_info

(

search_term 

=

 

"James"

, position 

=

 

"DB"

, team 

=

 

"Florida State"

, year 

=

 

2017

)

)




#>

 ── Player information from CollegeFootballData.com ─────────── 

cfbfastR 1.9.3

 ──


#>

 

ℹ

 Data updated: 

2022-09-23 03:23:23 UTC




#>

 

# A tibble: 1 × 12




#>

   athlete_id team     name  first…¹ last_…² weight height jersey posit…³ home_…⁴


#>

   

<chr>

      

<chr>

    

<chr>

 

<chr>

   

<chr>

    

<int>

  

<int>

  

<int>

 

<chr>

   

<chr>

  


#>

 

1

 3691739    Florida… Derw… Derwin  James      211     75      3 DB      Haines…


#>

 

# … with 2 more variables: team_color <chr>, team_color_secondary <chr>, and




#>

 

#   abbreviated variable names ¹​first_name, ²​last_name, ³​position, ⁴​home_town





  try

(

cfbd_player_info

(

search_term 

=

 

"Lawrence"

, team 

=

 

"Clemson"

)

)




#>

 ── Player information from CollegeFootballData.com ─────────── 

cfbfastR 1.9.3

 ──


#>

 

ℹ

 Data updated: 

2022-09-23 03:23:23 UTC




#>

 

# A tibble: 2 × 12




#>

   athlete_id team    name   first…¹ last_…² weight height jersey posit…³ home_…⁴


#>

   

<chr>

      

<chr>

   

<chr>

  

<chr>

   

<chr>

    

<int>

  

<int>

  

<int>

 

<chr>

   

<chr>

  


#>

 

1

 4035483    Clemson Dexte… Dexter  Lawren…    340     76     90 DT      Wake F…


#>

 

2

 4360310    Clemson Trevo… Trevor  Lawren…    220     78     16 QB      Carter…


#>

 

# … with 2 more variables: team_color <chr>, team_color_secondary <chr>, and




#>

 

#   abbreviated variable names ¹​first_name, ²​last_name, ³​position, ⁴​home_town




# }